Zip Lines
A zip line is a unique adventure that can help push limits and provides a very thrilling ri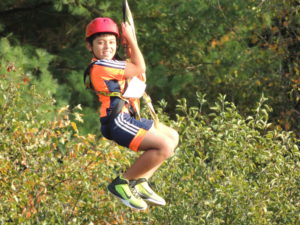 de in the sky! Part of a high ropes program, a zip line lets participants travel down a suspended cable on a pulley propelled by gravity.
We can customize zip lines to almost any type of environment and can include a single zip line our an entire tour for your participants to enjoy. Installation can be done on existing trees or with the installation of poles to ensure longevity.
Have a zip line you haven't used in a while? We can inspect it! We work with many new clients who have existing programs that need an update. WingSpeed staff make sure your program is ready to zip!
Adventure Parks
Looking for the whole package? Start your very own Adventure Park! Incorporate zip lines and a variety of high ropes course elements to build a one-of-a-kind adventure program. Adventure parks combine elements of challenge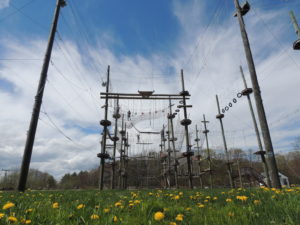 courses, zip lines, and any other forms of outdoor activity. These parks are generally designed more for recreational purposes (pay-to-play).
WingSpeed can design and build all the components of an adventure park to your specifications and individual needs. We work with you to discuss goals, objectives, equipment use and functionality, as well as providing staff training to help bring your adventure park to life!